BONUS PROGRAMБОНУСНАЯ ПРОГРАММА
To receive bonuses or dividends in the company, the client
needs to purchase one of the products:
digital case or company shares.
Digital cases
The purchase of a digital case by a client of the company with any denomination of $100 or more entitles you to receive a profit bonus.
Trading Case offers the following types of digital cases FREE $0, MICRO $100, MINI $500, MIDDLE $2,500 and MAXI $10,000.
REGULATIONS OF THE DIGITAL CASE
Trading week in the company - from Tuesday to Monday inclusive.
All funds for purchased cases during the week (from Tuesday to Monday inclusive) they start working from the next Tuesday, from 00.00 Moscow time. To receive a profit bonus on a purchased case, it must work for a full trading week (from Tuesday to Monday inclusive).

Example:
Mike bought a digital case on Tuesday, February 2 at 00.01 Moscow time (in the My Finance - Cases tab there is the date and time of the purchase of the case). Funds for the purchased case will go to work next Tuesday, February 9th.
Mike will receive the first profit-bonus on February 15, on Monday, when his case will work in the company for a full week. Starting from February 15, Mike receives a profit-bonus every Monday while his case is in operation.

Company recommendation
Buy a case before Monday (inclusive), so that from Tuesday the case went to work and the next Monday to receive the first profit bonus.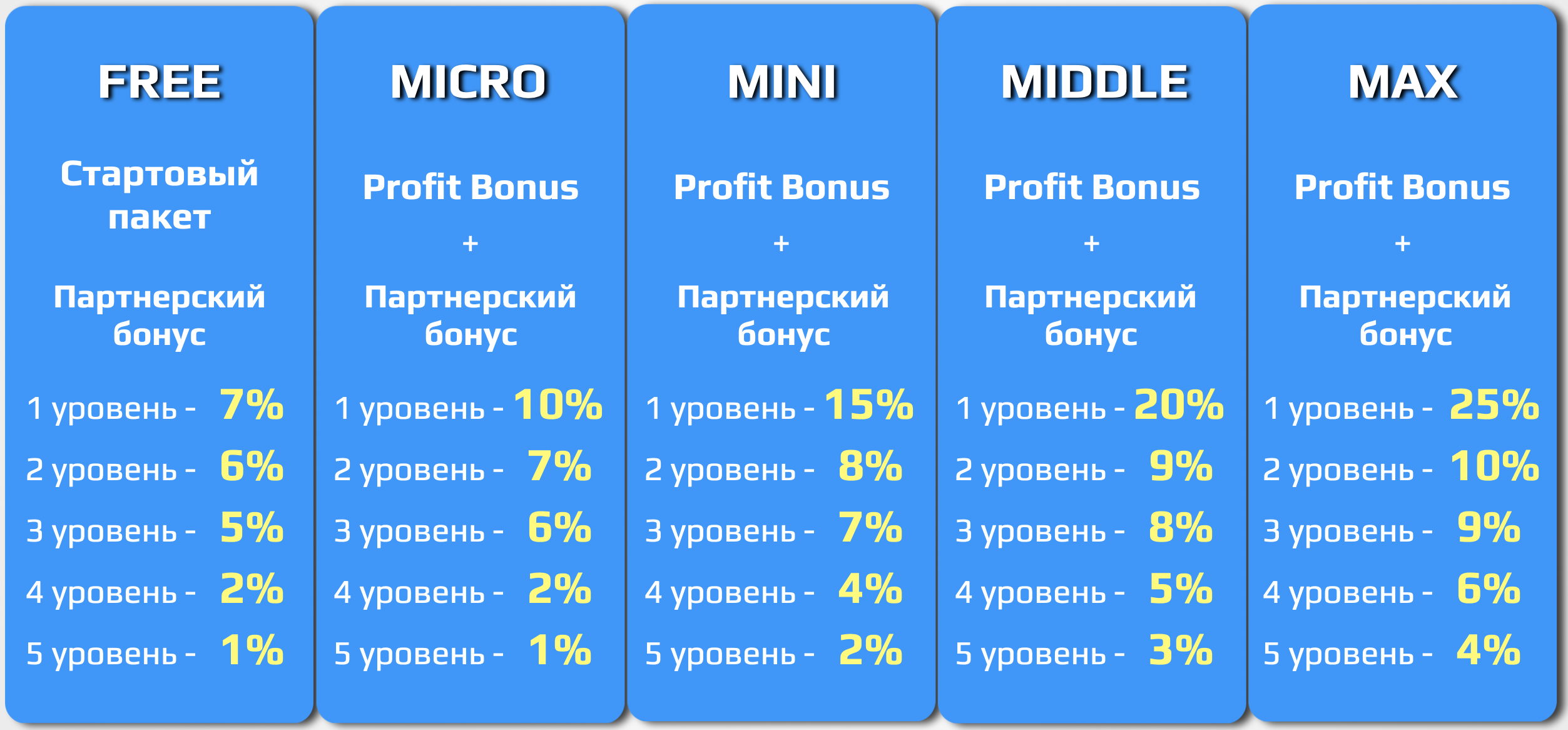 PROFIT-BONUS
- passive profit bonus from the income of the company
Projected client profit: for cases in USD ~ 80%-100% per year, for crypto cases in BTC and ETH ~ 20-40% per year (based on the historical of the company profit for past trading periods)
Case validity - indefinitely
Profit bonus is credited once a week
You can buy any number of cases of different denominations
Withdrawals within 5 business days
The case can be sold back to the company with the following commission: 1 month - 50%, 2 months - 40%, 3 months - 30%, 4 months - 20%, 5 months - 10%, 6 months - 0%.
After 5 months - sale without commission.
TYPES OF BONUSES FOR PARTNERS
01
01
Career bonus
The Career Bonus is a reward for achieving a turnover structure across all 5 levels (all time). By paying this bonus, the company celebrates the merits of an active partner in the promotion and growth of the company.
02
02
Affiliate bonus
Affiliate bonus is a reward for building an affiliate network. This is a weekly percentage accrued on the profit bonus of your affiliate structure of 5 levels. The size of the affiliate bonus depends on the value of your senior affiliate case.
03
03
Bonus case
A bonus case is a reward for personal activity (personal sales). You receive bonus cases for reaching a certain turnover of the structure of partners invited by you personally (first level partners). A bonus case can be sold or other types of bonuses can be received on it.
04
04
Marketplace Bonus
Marketplace bonus - a 10% bonus from the purchase of any product by a personally invited partner in the structure.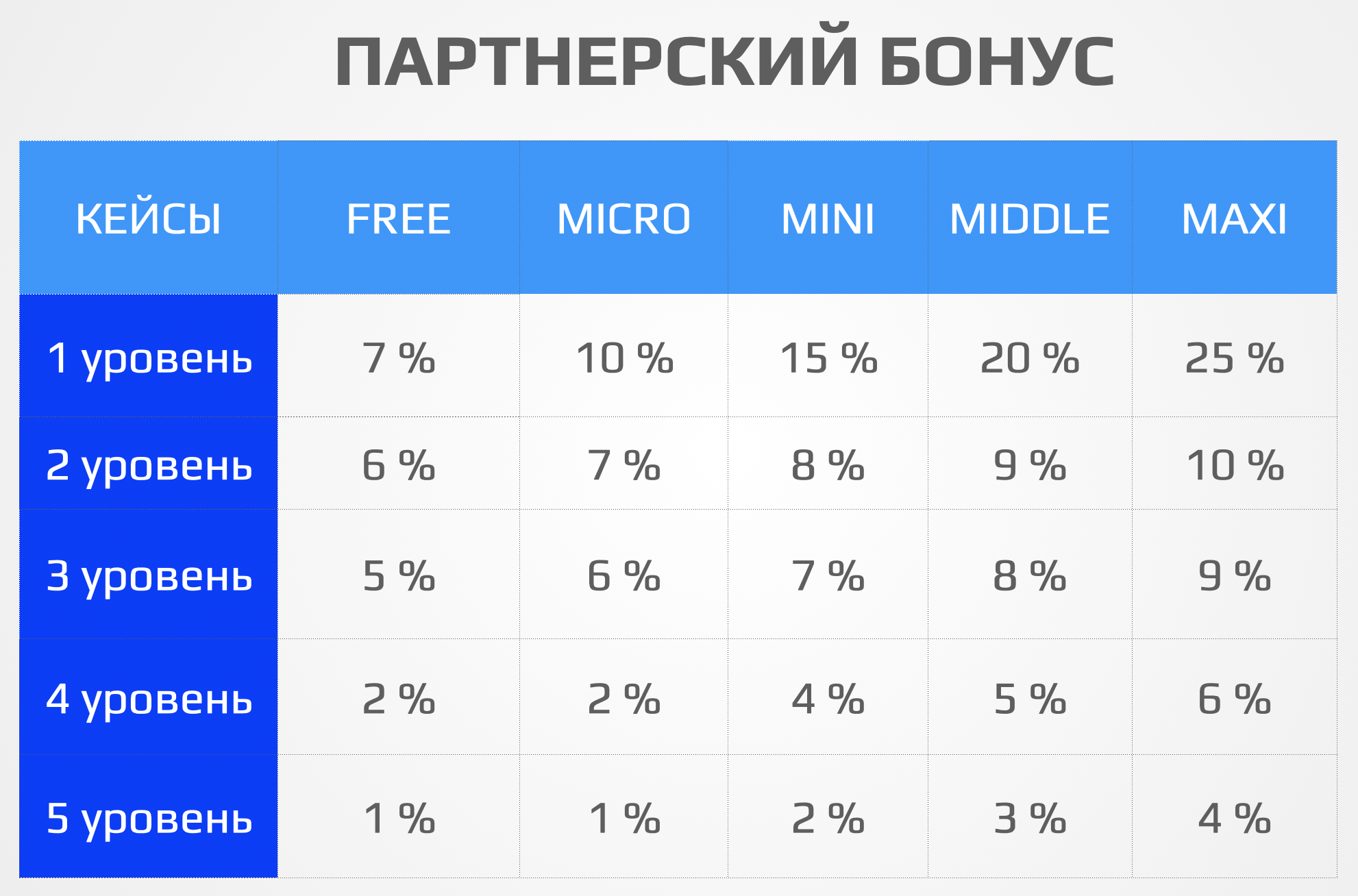 BONUS REGULATIONS
Bonuses are accrued every week after the market closes and summing up the financial results
All types of bonuses are credited to the internal balance of the user
Bonuses are available for withdrawal immediately after accrual
Application for withdrawal of funds is possible at any time if there are funds on the balance
Withdrawal of funds to the payment of the user details is carried out no later than 5 business days from the day following the day the application was submitted
BONUS CASE
BONUS CASE - a one-time bonus for reaching the turnover of the structure for personally invited partners (partners of the 1st level)
The bonus case is accrued automatically when the conditions are met and is displayed in the general list of cases in the personal account
Conditions for receiving bonus cases:
Each type of case (USD, BTC and ETH) has its own bonus cases (see tables below)
To receive a bonus case in a specific currency (USD, BTC and ETH), you must fulfill the requirement for the turnover of the first line in a given currency: for USD cases, bonus cases in USD, for BTC cases, bonus cases in BTC, for ETH cases, bonus cases in ETH.
The bonus case is credited automatically when the conditions are met and is displayed in the general list of cases in your account